The other day I tried on THE most adorable double breast coat on sale for $300+ (it used to be $500+). I know-ouch! Here's a picture (the one on the left):


By Rebecca Taylor, it is THE most romantic, girly and gorgeous coat I've tried on this season yet. This picture doesn't really do it justice. The back is expertly slimming. And the buttons on the coat are actually gobs of pretty crytal things. And the collar is velvet. Its perfect for the romantic victorian look of this season!The coat on the right also by Rebecca Taylor, is also very adorable, completely made of velvet with a slightly more military edge to it. I highly recommend looking at all of Rebecca Taylor's Fall 05 collection for more romantic victorian inspired clothes.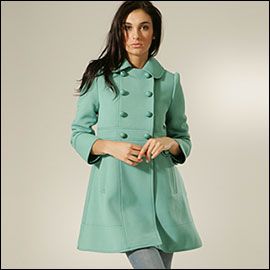 Then I was suddenly seeing double breasted coats everywhere. On the next rack was this charming mint colored double breasted coat from Marc by Marc Jacobs.While not as detailed as the Rebecca Taylor, the bright mint color and delightful flare gives it a very baby doll girly feel.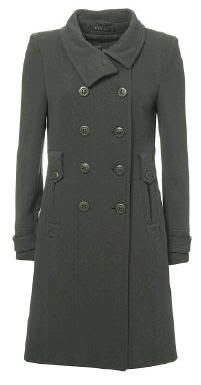 Now that I was caught on with this whole double breasted coat trend, naturally when I got home I went online and looked for more! Because if you think about it, the double breasted coat really is a very classical piece that gives off the very well put together and and ladylike vibe. And this well fitted black one from Top Shop is definitely classical.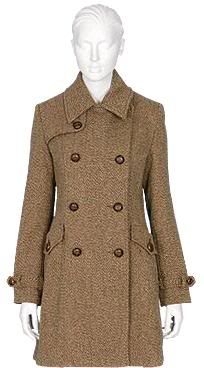 But if you want something not quite so classical, this brown double breasted jacket from Zara is perfect. It even has a extra flap on the left shoulder to give it a more "military" touch this season and a more "burberry" touch on the long run.
Unfortunately there is one downside with double breasted coats- you must wear it all buttoned up. Otherwise, you just lose the pulled-together-ness of the design and just doesn't look so good.