They really do save the best for the last. The finale to the Spring/Summer 06 fashion marathon was magnificient. Everything was simply gorgeous. These collections are amongst my favourites this season-and that IS hard to top when I've reviewed countless fashion shows in the past weeks.

Yves Saint Laurent
I personally have a thing or two for YSL. I do believe that this is one of the brands I am going to drape myself in when I become a power woman. This season's collection was stamped all over with the message a power woman wants to give-strong but still feminine with the very defined waist belts and all that frill.


As if the models legs are not long enough, those high waisted cropped pants make them look even more impossibly long. I really should get my hands on one of those pants! And although I've never been much of a fan of the pencil skirt, I definitely see the merit of it here.


Although I must say that the balloon (or was it tulip?) skirt does not look very flattering on the model. What chances do us mere mortals have?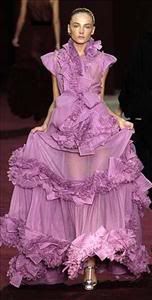 That black dress is very sexy. But the purple dress is just a mite too frilly for my taste.
Louis Vuitton
What is fashion week without Louis Vuitton? This season, instead of all the seriousness of elegance, the collection was wrought with street chic fun and youth.


I wonder how long the wait list for that gold chain collection of Vuitton bag is going to be.


The collar of that jacket is just soo cute with a little bit of purple peeking out. And I LOVE that swim suit. Its not blatant but still very sexy.


I adore the strapless dress. Its soo simple but soo stylish. And the loose fuschia shirt over the black dress is a perfect example of the tough street chic look I was talking about.


That is one useful chain necklace/belt. It transforms a perfectly bland outfit into something else.

Elie Saab
I've had a weak spot for Elie Saab ever since I spotted it on the haute couture runway. And her SS06 collection was romantic, ladylike and simply fabulous!



The flowers on the dress, on the jacket and on the straw bag definitely adds romance to the air.



The red dress is amazingly well structured and totally hot. And the silver on the flowy white dresses just makes it all the more whimsical. Simply beautiful, oui?
Valentino
I am head over heels in love with this collection. It was genius!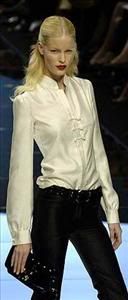 There were strong clean lines. That is a gorgeous pink coat (it also comes in white!), interesting how the flowery shaw is worn and that clean white shirt tucked into black pants look is ultra chic here.



Now THIS is how gold should be used.



And these dresses with the floral print, the gentle sway of the skirt and the sheer poofy sleeve is all just oh-so-romantic! I'm in love. . .