Inspired by the Balenciaga AW 05-06 runway, military styled jackets are all the rage. Their structural and rigid cutting instantly gives you a very well put together look as blazers do but with more of a twist.

I mean, who wouldn't want to look as ladylike and french chic as this model here, on the Balenciaga runway?
My top pick for military jacket is this one from Zara. The buttons and detailed structure gives it the military flair while its relative simple cutting and color makes it that much easier to match. With a flared flowing skirt maybe to counter the structure?
And this one here from Intuition is awesome too, because while the button gives it a military touch, the velvet material, the collar and feminine cutting can easily pull off the Victorian old english look as well! 2 trends in one jacket-what a bargain!
For those in colder climates (like moi) and can no longer wear thin short jackets, here are some more wintery coats to keep us warm and stylish. This double breasted one from BCBG with the round buttons is great (well maybe not green, go for the black one). Whats great about the jackets mentioned above is that they are so subtley military that you'll probably be able to wear it again next season!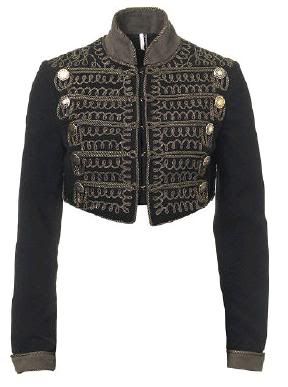 But if you want to go all out for this trend, you cannot beat this denim cropped jacket from
Top Shop
. It practically SHOUTS military.
And then there is this wool/cashmere/nylon coat here from Ll Collezioni at
Bloomingdales
, making a relatively more subtle statement.